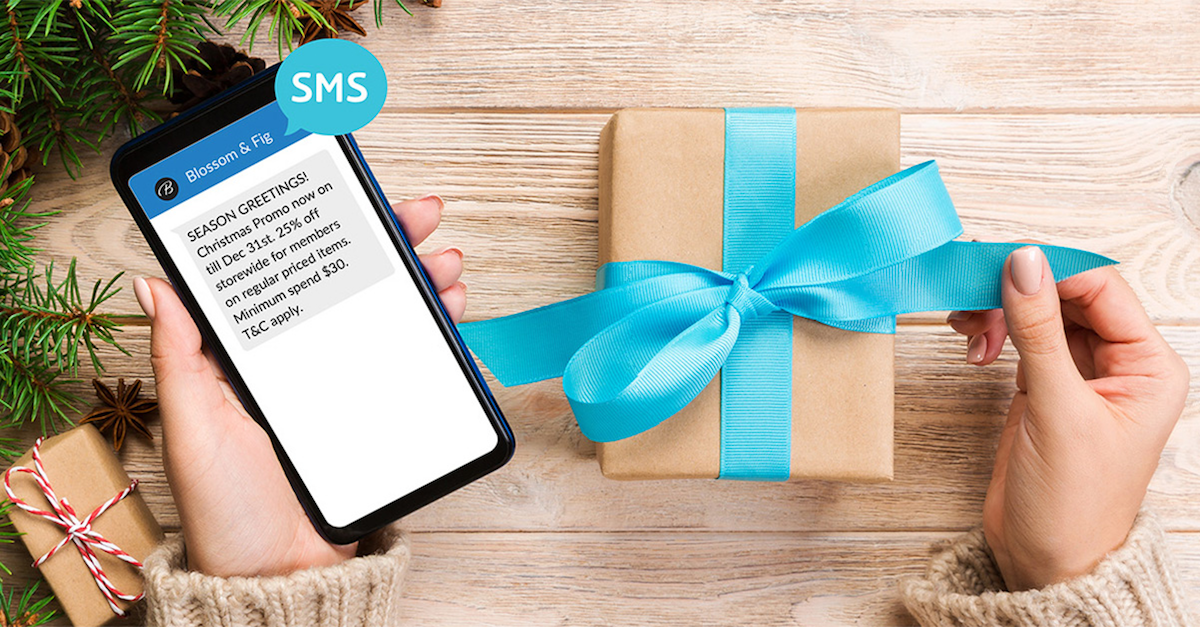 6 SMS Marketing Tips for the Holiday Season
10 December 2018
With Christmas just around the corner and the school holidays just midway through, everyone's in the mood for some holiday festivities. It's the best time for you to roll out some amazing promotions to make Christmas shopping just a little easier for your customers, and what better way than through SMS marketing? Here are 6 SMS marketing tips to jazz up your holiday season.
One of the key aspects that makes SMS marketing so effective is that it's so fast - you send the message, the customer receives it, reads it and decides if they want to go for it. Altogether this whole process, from when the customer receives the message, takes no more than 10 seconds. In our world today, where everything runs at the speed of light, not wasting the customers' time is crucial to make them even consider your deal. No one's going to want to read a huge chunk of text talking about how jolly they'll be if they buy your products - they have better things to do than that.
To fully grasp your customers' attention, you need to keep your text as short and as clear as possible. Don't beat around the bush! Tell them straight that there's 50% off every second purchase they make if they show this text to the cashier. Our recommendation is to limit your text to 160 characters, maximum. That way, you'll have the most returns from the least amount of effort.
Now, you only have so many characters to sell your deal - you better make the most of them. Make your promotion sound as enticing and as limited as possible so your customers will feel like they need to go for it. Use phrases like 'today only' and 'ends in 8 hours' to create a sense of urgency in customers. Now that it's the holiday season, you could also make use of a countdown as it gets closer to Christmas, reminding them that they only have a few days left to get their last-minute presents.
It's important to decide a proper time for your messages to be sent out. For example, sending a message out at 4am is not a good idea, because no one would see it until the next morning. On the other hand, 1pm would be a good time, because most people would be having lunch and on their phones. They could make the split-second decision to swing by your store after work, or just stop by after lunch. The right timing could make or break your campaign, so make sure the timing is right.
Making your messages personalised to each of your customers could make a massive difference between whether they consider your deal or not. Adding just their name could make the message much more relevant to them than it would be if it was just some ordinary promotion.
Personalisation goes a bit deeper than just adding their name though - it's important for you to remember the customers that are loyal. Keeping a customer database can be a massive help for that. If you know your customers well, you can give them deals catered towards their needs. Offer your loyal customers special promotions other customers don't get. Birthday month deals are important too - not only is it a good opportunity to get them to make purchases, but it also shows that you value them enough to keep track of their birthdays, which will entice them to engage more with you.
This is the final but arguably the most important step to take when crafting your messages. Proofread your text. You need to make sure you're not sending any wrong information or faulty links to your customers or you'll end up stirring up trouble for both yourself and your customers. Having errors could cost you an arm and a leg, and could potentially cause you to lose your customers. Make sure everything is clear and ready to go before you press that send button.
Having the right SMS service provider could make or break your campaign. You need to look for the best company to manage your SMS marketing campaign because, in the long run, your ease of management could benefit you or hurt you.
Fortunately, Moobicast has you covered on that. Our user-friendly web interface and hassle-free text messaging service will save you time to focus on the things that really matter. We have two options for you to choose from:
1. Provide us with your requirements and let us blast the messages for you
2. Use our Moobicast platform to send out the broadcasts yourself
With the Moobicast web portal, all you'll need to do is key in your SMS campaign message and upload your customers' contacts, before scheduling your broadcast and hitting 'proceed'. It doesn't get any simpler than that.
Take advantage of the beautiful holiday season to promote your products and services. By following these six tips on SMS marketing, you can make your Christmas and your customers' merrier than ever. Make the most out of your holidays with a new and improved campaign. Happy Holidays!